Feature Voting
Feature voting helps you identify real user needs, prioritize tasks, and build the roadmap for your project. Build right features using feature voting tool we made for you.
In Productroad, users can vote for features from several places: from feedback boards, from roadmaps, from the post describing the feature itself.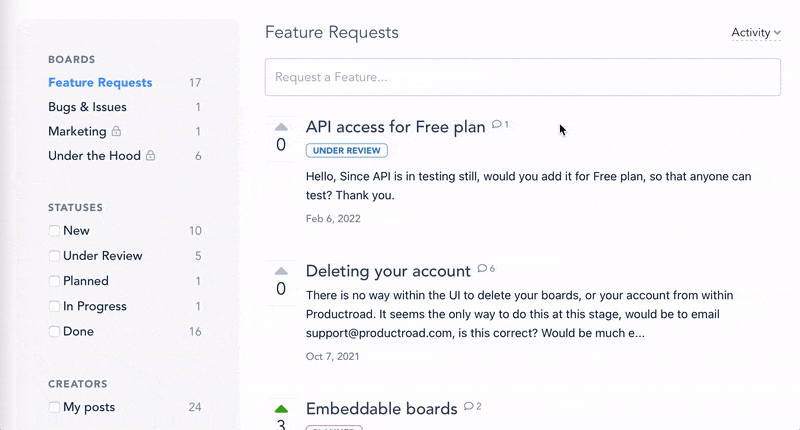 Feature voting from board
Voting on the roadmap allows the user to see what the team is working on and its future plans, so the user can vote for the features that the team plans to implement in the near future.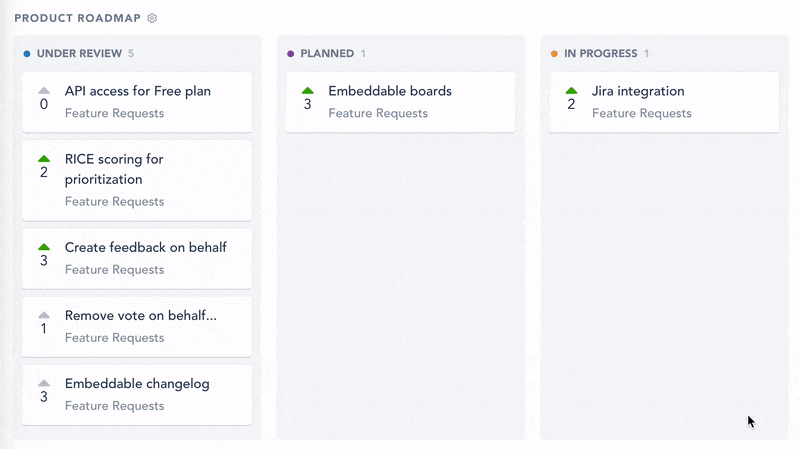 Feature voting from roadmap
Why you should use feature voting?
Feature voting allows you to understand your users and their needs. You'll know which problems users care about the most, which features your customers need the most, and which features different user groups need (the needs of premium subscribers, large and small customers may be different).
Feature voting or A/B testing?
It often happens that users say one thing, but actually want another. A/B testing shows the real situation. However, A/B testing is focused on the way to solve a particular problem, while feature testing is designed to find the problem itself.
Also A/B testing is indispensable when you can't ask a user for his opinion, for example while a potential client is not your user yet and you need to check the conversion funnel.
How easy is it for users to vote for features?
Voting itself takes one click of a button if the feature is already created. If a feature isn't yet on the portal, it takes less than a minute to create it and in the process of creating it the user will be shown similar existing features.
You can also automatically create a user account on the feedback portal and then give the user a unique link, which will allow the user to sign in right away. We allow you to automatically generate such secure login links.
Can I see which users voted for which features?
Yes, you will see the names of all the users who voted for the feature.
For other users you can also show full name, initials, or just the user's profile picture.
This is how admins see the list of users who voted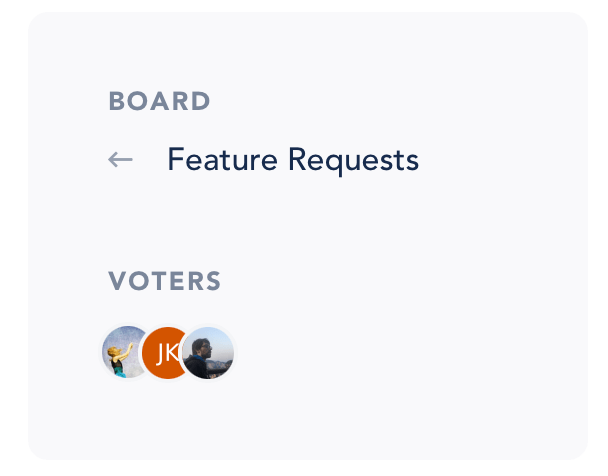 Customers can see a list of those who voted, for example, in this way
Is it possible to make fiture voting available only to the project team?
Yes, there are three options.
First: you close your portal and only team members can log in and vote for features.
Second: you make separate feedback boards available for team only and users will see the number of votes from your team.
Third: you make some feedback boards available only for the team or for particular groups of users, other users will not see these boards on your portal.
Productroad helps you collect user feedback, prioritize it, make a roadmap of a project and inform customers via changelog about new cool features.
Free 14 day trial. No credit 💳 card required.