Productroad features
Find out how we collect and manage user's feedback to help you prioritize features.
Free 14 day trial. No credit card required.
What your users will see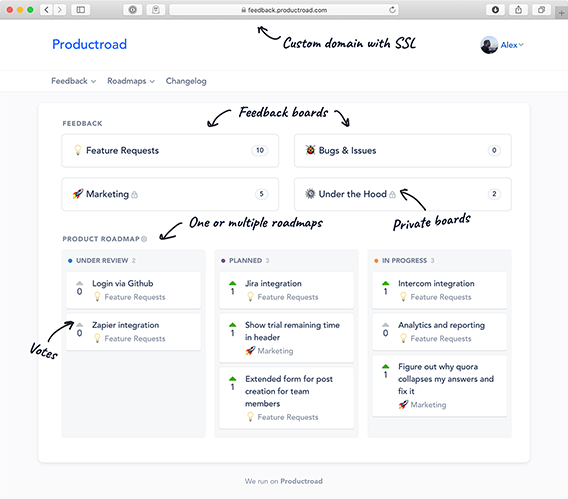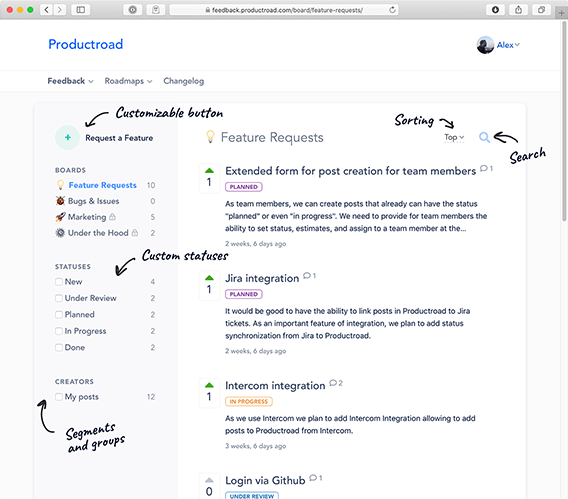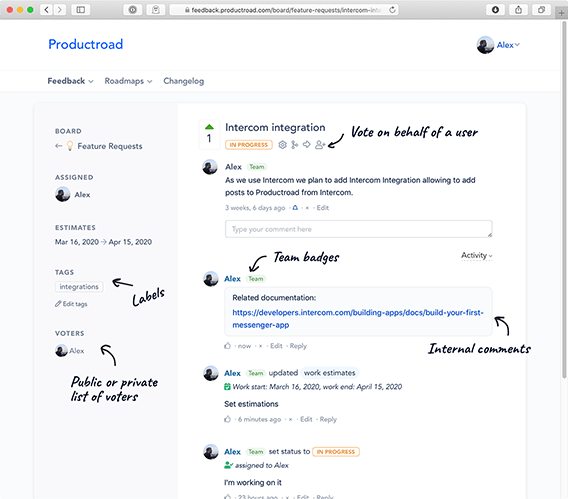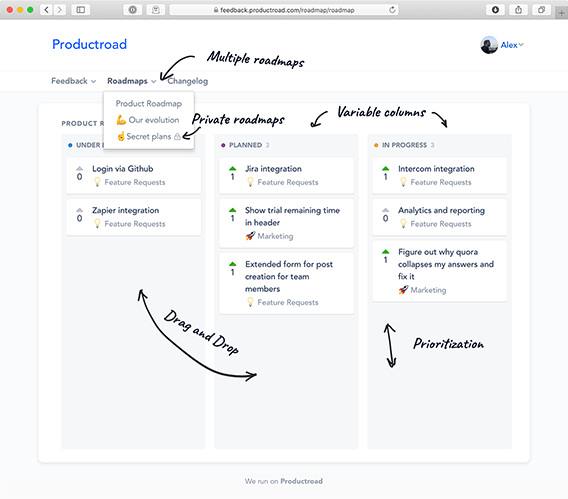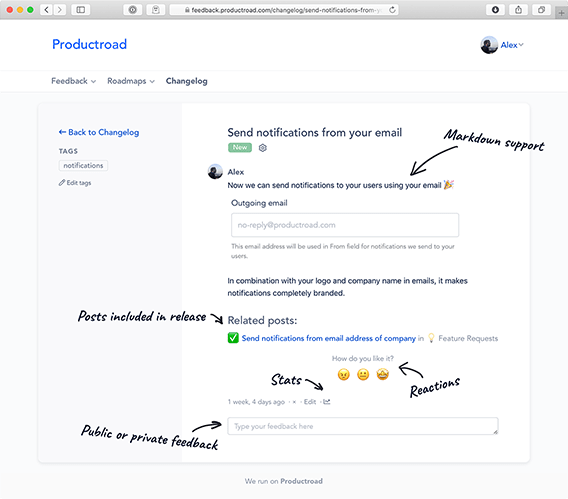 Feedback portal
A home page for your feedback. This is where people can see both roadmaps and feedback sections.
Boards
Categories for feedback. This is where users can create feedback or vote on existing posts.
Posts
Give your audience the opportunity to participate in discussions about your product and suggest the best solution.
Roadmaps
Show me what you are working on and what features are planned for the future.
Changelog entries
Implemented a cool feature? Post it to the changelog.
And what's under the hood
User Login and Signup

Social login
Your users can use a Google or Github login.
SSO auto login
Generate a link for each user with the user's data, which, when clicked, will log him into his profile.
Guests boards
Create boards where only your team members can discuss feature requests and users can only vote.
Privacy and security
Forced login via Google
Disable login and password authorization for team members to increase security.
Private boards and permissions
Set different access settings for each board and roadmap.
User and team groups
Allow access only to specific groups of users or team members.
Hide user names
For some boards you can hide customer names and photos behind acronyms.
Closed mode
Close your account from the outside world, only team members will have access.
Customization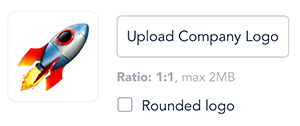 Own logo and favicon
Upload your company logo and favicon to the feedback portal.
Company colors
Set color of your brand to better integration.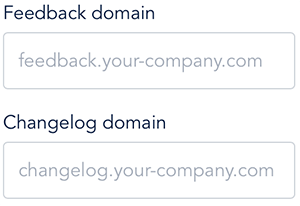 Custom domains
Place the feedback portal and changelog on your domains. We'll take care of SSL.
Your email for outgoing notifications
Notifications to users will be sent from your address.
Team features
Task prioritization
Move tasks up and down on the roadmap to show the priority and order of work.
Pinned comments
Pin and highlight important comments at the top of posts.
Changelog by schedule
Plan your changelog records and we'll publish them at the right time.
Internal comments
Leave comments on posts that only your colleagues will see.
Hashtags
Use hashtags to filter posts and build roadmaps.
Merge or move posts
Combine similar feature requests into one post.
Custom statuses
Create the statuses you need for your workflow.
Vote on behalf
Add feedback or votes for the feature on behalf of the user.
User features
Feature voting
Users can vote for the features they like and need.
Markdown everywhere
In posts, comments, and changelog, you can format markdown and drag-and-drop upload pictures.
Cross-Board Search
Search for posts works on all boards that will quickly find the desired post.
Comment liking
Users can mark their favorite comments.
Subscribe and Notify
Customers who sign up for updates to the post will receive notifications in the mail.
Estimated Dates
Your clients will be able to see your start and end dates for the feature.
Service features
Premium support
Live people will answer your letters. No endless responses from bots and autoresponders.
Statistics and charts
We provide you with full statistics on user usage of the app.
99.5% Uptime
Always available online for your customers.
Free 14 day trial. No credit 💳 card required.