Roadmap for your Product
Show users, you care about their feedback by visualizing working on the product via Roadmap.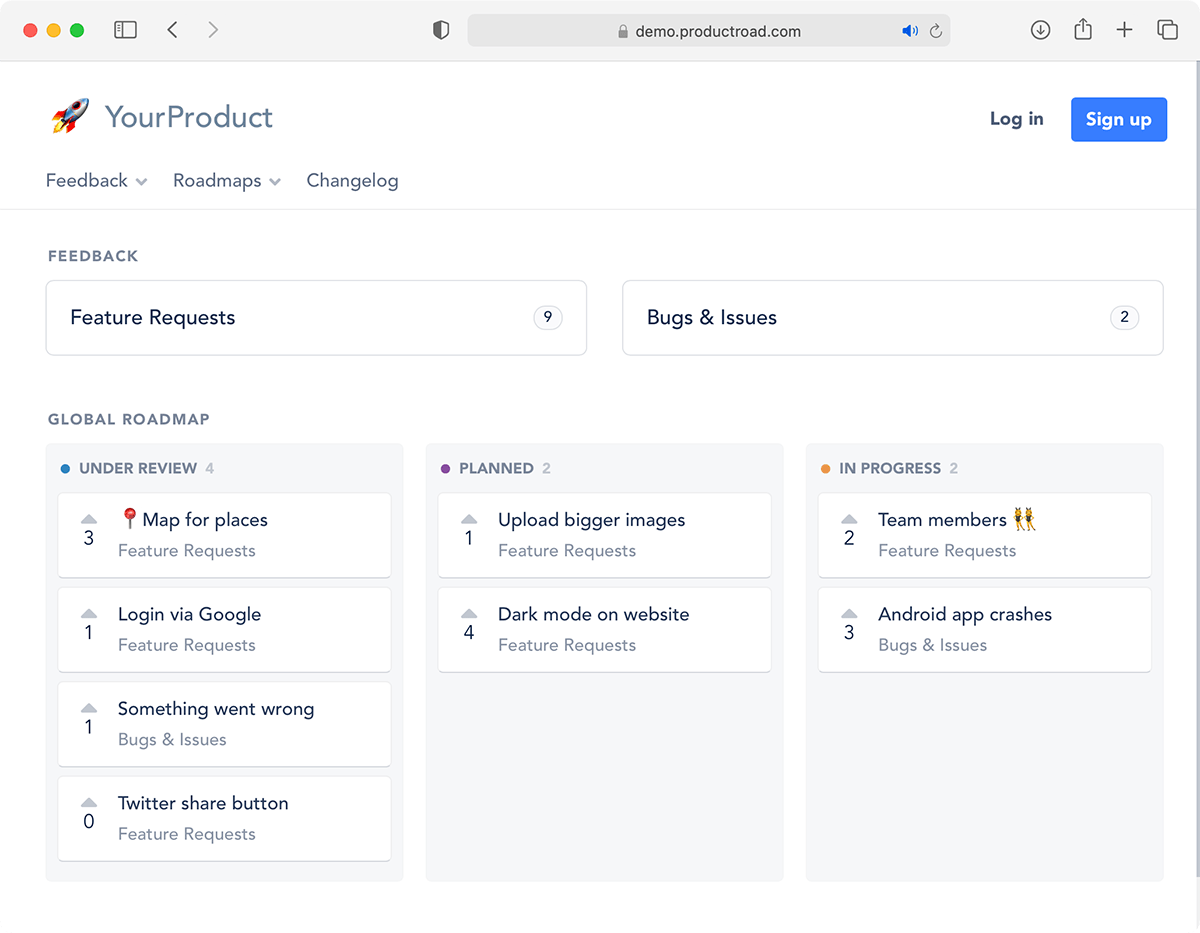 What is a product roadmap?
A product roadmap is a visual representation of the state of a product, its goals, strategic development and progress on changes and improvements.
Roadmaps within Productroad are presented as a set of tasks and their statuses. Each task is presented as a post with a description and discussion. Thus, seeing the overall development picture - the roadmap, you can always find out more details.
---
Which is an example of a product roadmap?
There are many examples of roadmaps: long-term and short-term project goals, release plan, sprint plan, quarterly and annual OKRs, and so on.
You can construct any roadmap yourself using filters. For example, you can specify that the roadmap should contain only features, to do that, choose to display only posts from certain boards on the roadmap in the settings. You can use tags to specify release numbers or application component parts and display only the needed ones in the roadmap.
---
What is a feature roadmap?
The Feature roadmap shows the plans and current status of feature implementation in the project.
Such a roadmap is needed for communication between the product manager and the development team, clients, and stakeholders.
---
What are the main objectives of a product roadmap?
Product roadmap shows the general direction of the project development and shows what the project aspires to, what business audience it is intended for and how much the project's development speed is estimated.
While the feature roadmap describes the product development on a tactical level, the Product roadmap shows the strategy.
---
How do you structure a roadmap?
First, decide on the long-term goals of the project. Understand the real needs of your users. Structure the requests from users and decide which ones you want to add to your product in the near future.
Always keep the roadmap updated and track the progress of certain tasks. By the way, Productroad automatically updates roadmaps as the task status changes.
---
Who creates the product roadmap and releases?
The Product manager or product owner is responsible for maintaining the roadmap.
Development teams and even customers can also generate roadmaps, and their requests go to the part of the roadmap called the backlog and must be verified and prioritized by the product owner.
---
How often should a product roadmap be updated?
The roadmap should be updated as often as actual changes occur in it. Any new decision making, changes in development, closed tasks should be reflected in the roadmap.
A roadmap is not only a single source of truth about changes and plans in your product, but also a way to notify all stakeholders. Keep it up to date.
---
When should you use internal roadmaps?
While public roadmaps are for customers, internal roadmaps are usually used internally. Their main users are these stakeholders, development teams, and all interested departments.
Internal roadmaps allow you to give your employees an understanding of the direction of the company's development, organize the transparency of the teams' work, thereby raising their credibility within the company, reduce and structure the incoming requests to the teams from other departments.
In addition, internal roadmaps are useful for discussing issues that should not be discussed publicly. This can be a choice of internal tools for development, as well as decisions about the company's corporate culture, employee training, and other things that do not affect customers.
---
Plan your work and show your progress.
↕️ Prioritization
Prioritize feedback on roadmap or change statuses by drag and drop.
📅 Estimations
Set estimations, inform users when you plan to start and complete works regarding feedback.
🎛️️ Variable Colums
Put different statuses on roadmaps. Configure count of columns per roadmap independently.
🎨 Custom Statuses
Modify existing and add new statuses. You set names and colors.
🏷️ Tags
Limit roadmaps to show only posts with selected tags or from selected boards.
🔐 Privacy
Hide some boards from homepage and search engines or make them completely private.
👨‍👩‍👧‍👦 User Segmentation
Limit the audience for a particular roadmap by providing access only for selected users or groups.
🙋‍♀️ Assignees
Assign posts to team members. Make it public or keep private.
✉️ Updates
Send status updates to users subscribed to feedback posts.
Productroad helps you collect user feedback, prioritize it, make a roadmap of a project and inform customers via changelog about new cool features.
Free 14 day trial. No credit 💳 card required.