Productroad is modern UserVoice alternative
Productroad is simple and modern alternative to Uservoice at an affordable price. You get a clear but user-friendly interface, a great feature set, integrations with popular tools, and fast support.
Company page
Productroad provides a home page for the feedback portal, which can contain both sections for feedback and display one or more roadmaps for your product. Users can vote for features directly in the roadmap or by navigating to the appropriate forum.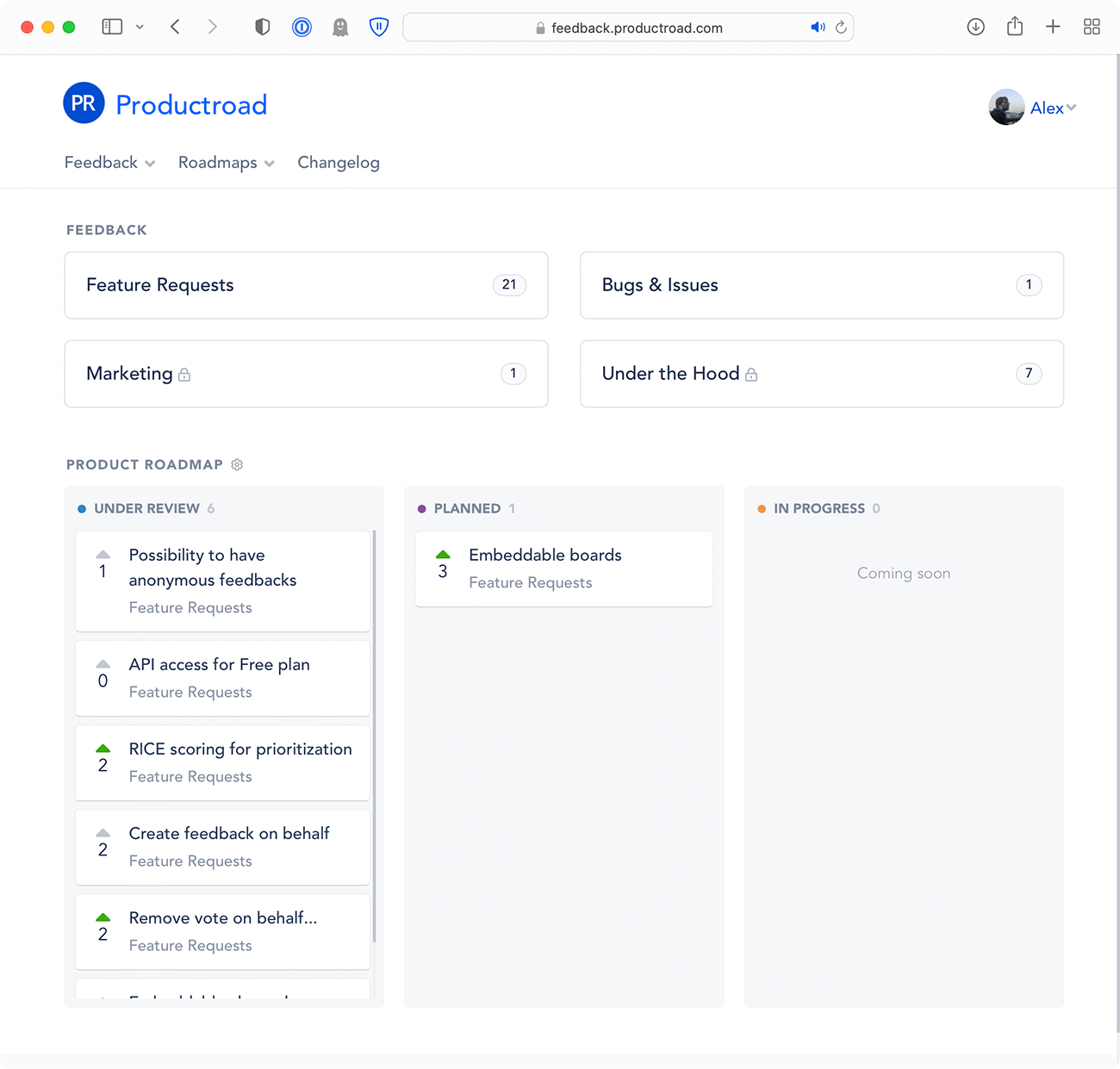 Feedback portal on Productroad
Feedback boards
Productroad has a more modern and concise look to the boards. The user sees multiple posts with reviews at once, the search works around all the boards, and filters are enabled in one click.
✅ Categorize posts with hashtags.

While Uservoice only allows you to categorize reviews, Productroad has has hashtags that can be used to quickly find posts, and to show roadmaps posts only with pre-selected hashtags.

✅ Advanced post creation form.

You can customize the label of a button for post creation. Also post creation form provides more control to post: user assignment, status assignment, and defining ETAs.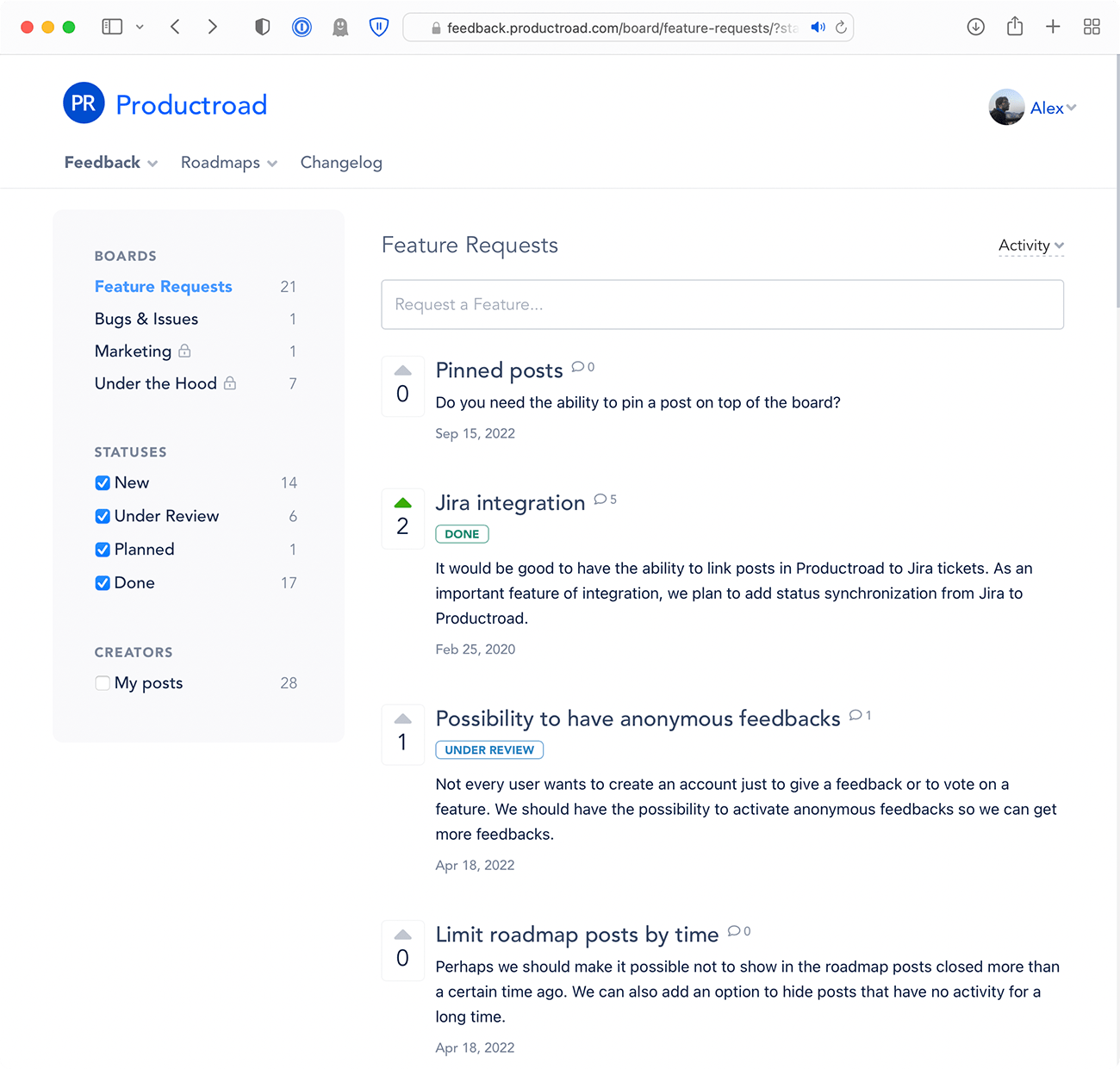 Feedback board on Productroad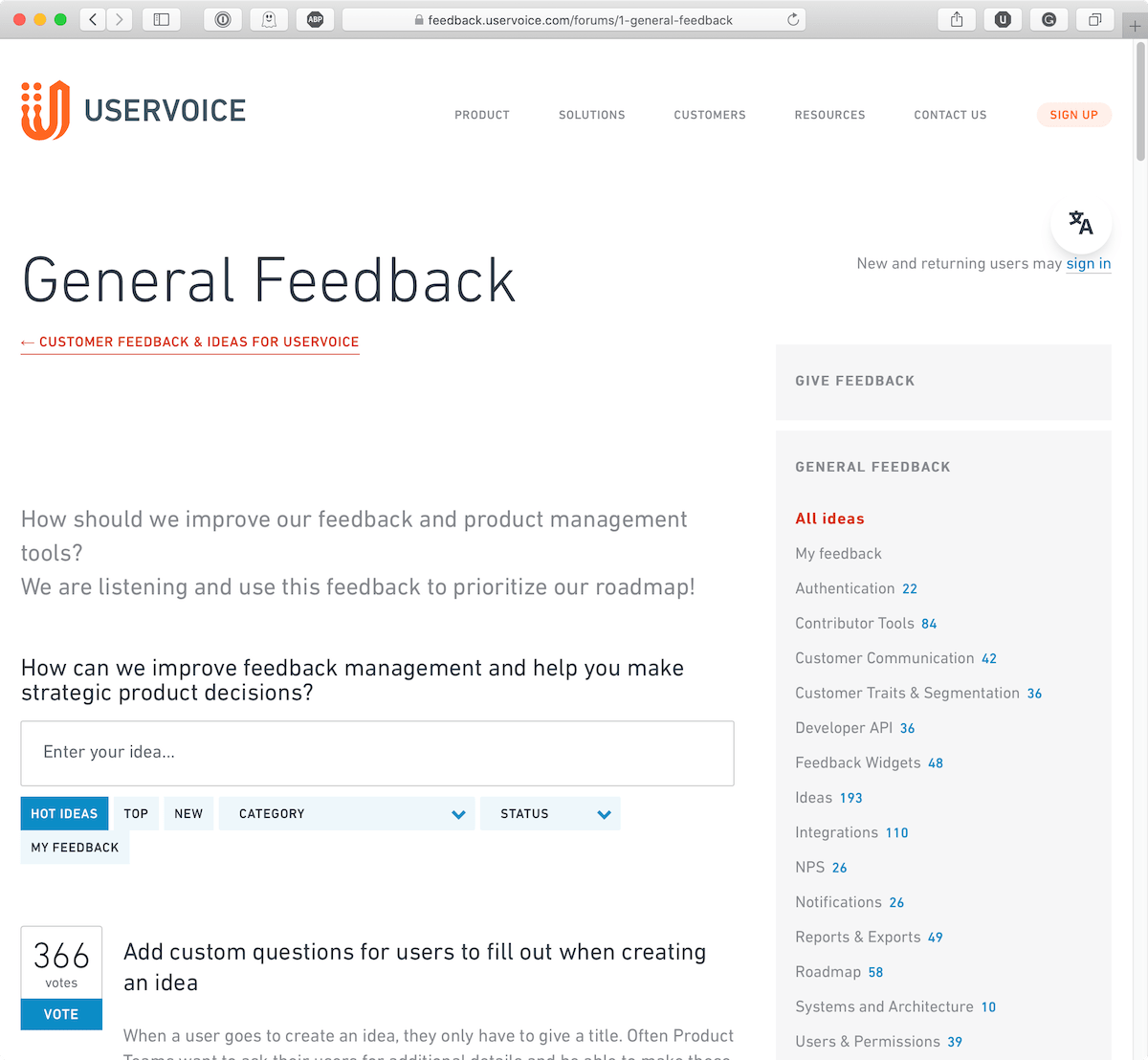 Feedback board on Uservoice
Feedback posts
The display of reviews is more practical: users can subscribe to other reviews and be notified when their status changes, discuss reviews using tree-like comments with likes and markdown for advanced editing.
✅ Hide or show the list of voters.

You can choose how to display the reviewers: show the name with a profile picture, just the name, or hide the name and profile picture behind the initials..

✅ Assign post to team member and set ETA.

Productroad has basic features for project management: you can assign feedback to a specific member of your team and designate start and finish times for tasks. This information can be both internal to team members and available to all visitors.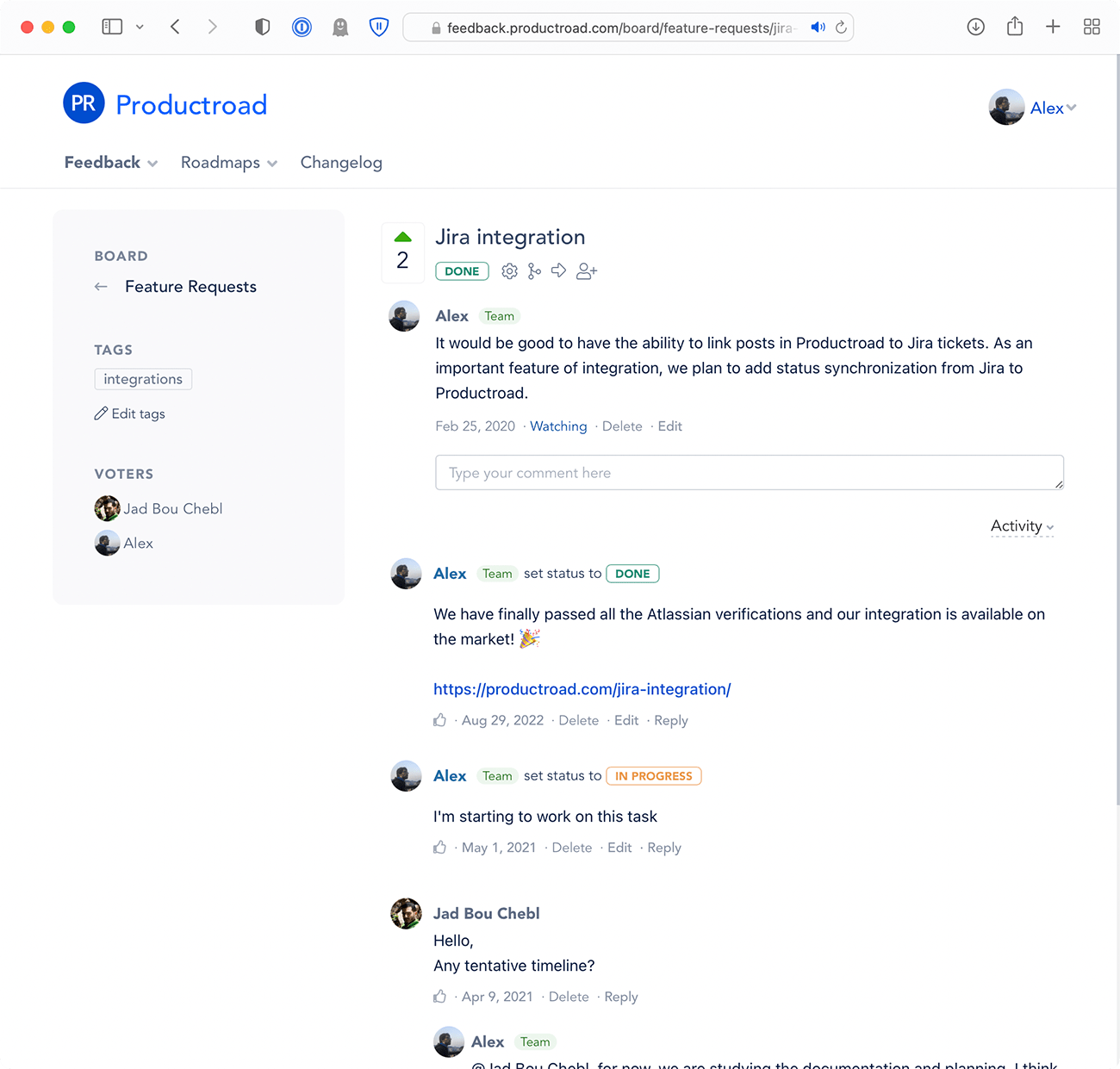 Feedback post on Productroad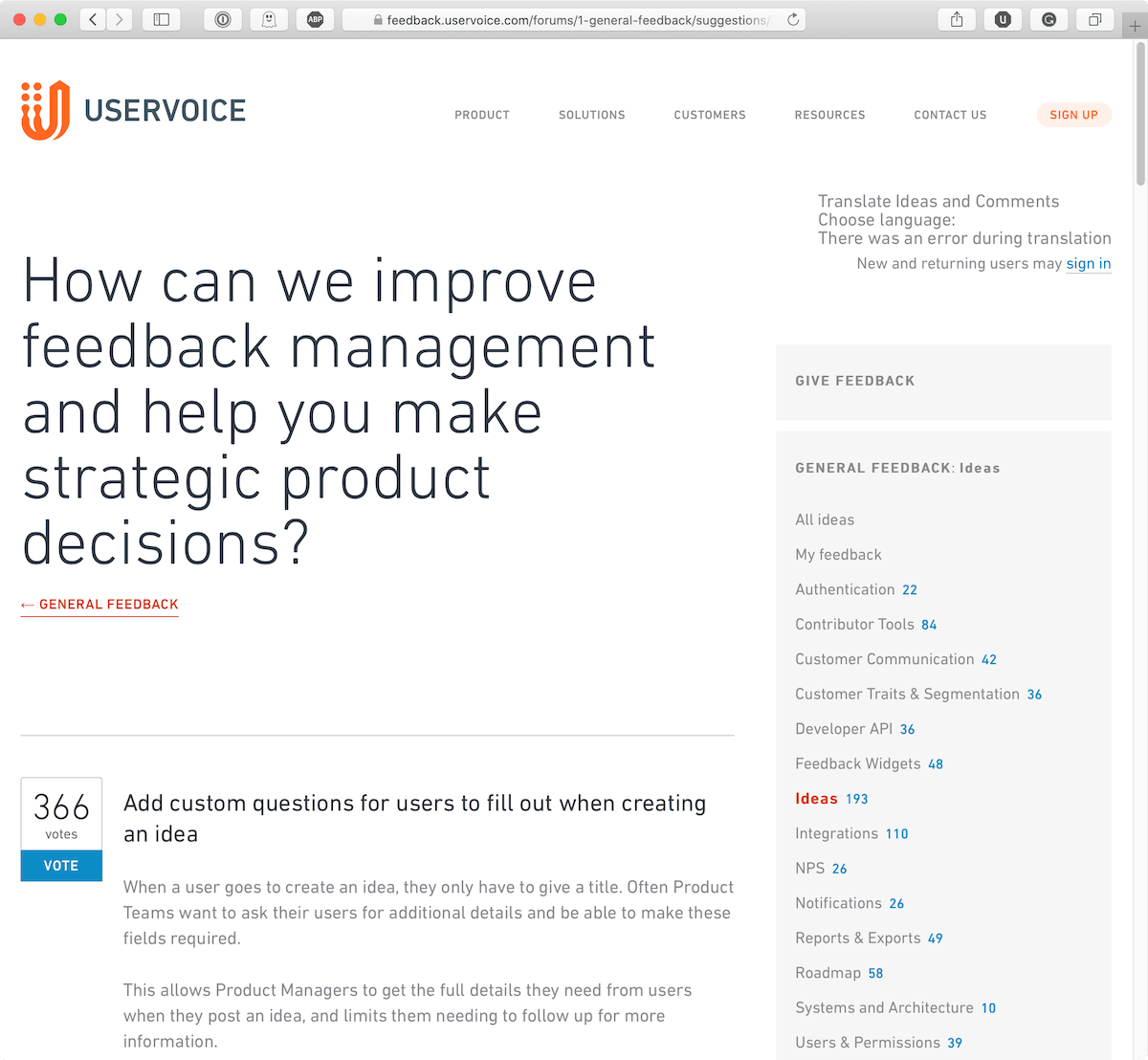 Feedback post on Uservoice
Changelog
With Productroad, you can quickly and easily keep a change log and publish it on a separate subdomain, such as changelog.yourcompany.com. In addition to informing users, the changelog allows users to rate changes or leave comments, of course, if you've enabled this feature.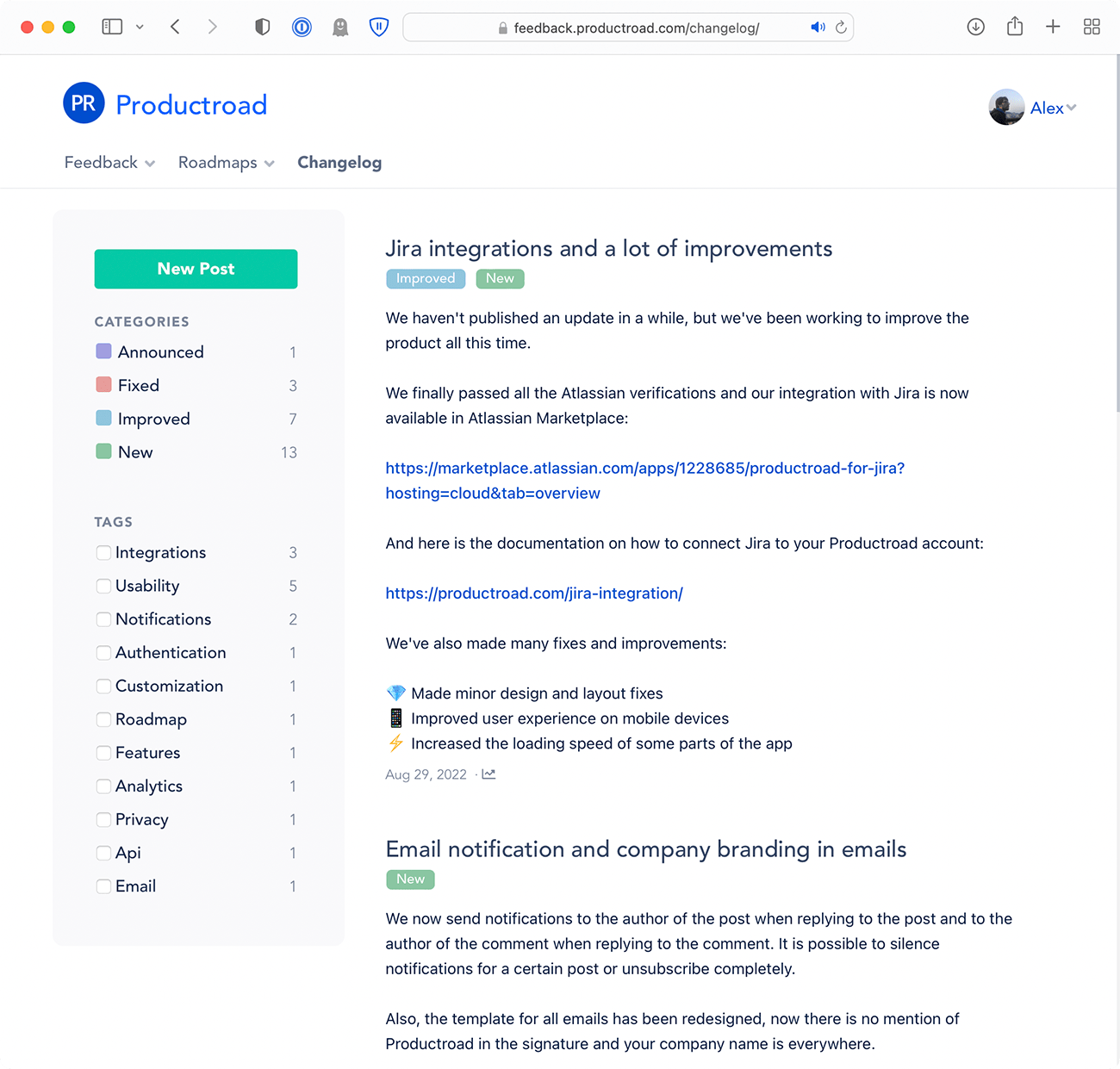 Changelog on Productroad
Why people prefer Productroad
🚀 Instant Setup

We don't ask you to call just to understand how much we can charge you. Our pricing is clear and you can start a free trial right now, even a credit card is not required.

😎 Premium Support

While we don't ask you to contact our sales team we always ready to help you.

💰 Affordable and transparent pricing

💎 Clean and Simple Design

While Reddit is still good not changing design since creation time we aim to provide the best user experience so we made something really informative and modern.
Productroad helps you collect user feedback, prioritize it, make a roadmap of a project and inform customers via changelog about new cool features.
Free 14 day trial. No credit 💳 card required.